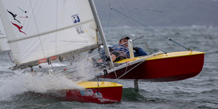 The Paper Tiger
The Paper Tiger Catamaran is a 4.3m (14ft) single-handed racing catamaran that provides exciting and close racing.
Read more
50th Australian Championships
The regatta was hosted by Kurnell Catamaran Club, New South Wales, Click the button below for results.
More Information
State Associations
Find out what is happening around the country and in your state. Access their pages by clicking on the button below.
States